ATV QUAD BIKE CHOOSE YOUR OPTION
ATV Quad Biking is mainly time-bound. Since Desert Parks owns and operates its own campsite in the Desert of Al Awir, the Quad Biking experience could be enhanced through camp facilities. This means that for short rides, you would have free water and tea/ coffee on us. For longer team-building sports, we would throw in a healthy breakfast, if you chose morning time. For evening rides of more than 2 hours, you could join us for our buffet dinner also. Plus, all the facilities like washrooms/ restrooms are well provided for.
15 Minutes
For beginners, riding in the campsite attached ring under the watchful eyes of an ATV Guide
For the fearless repeaters, you may drive out in the open led by our well-experienced guide
Water and Hot beverage free
Aed 250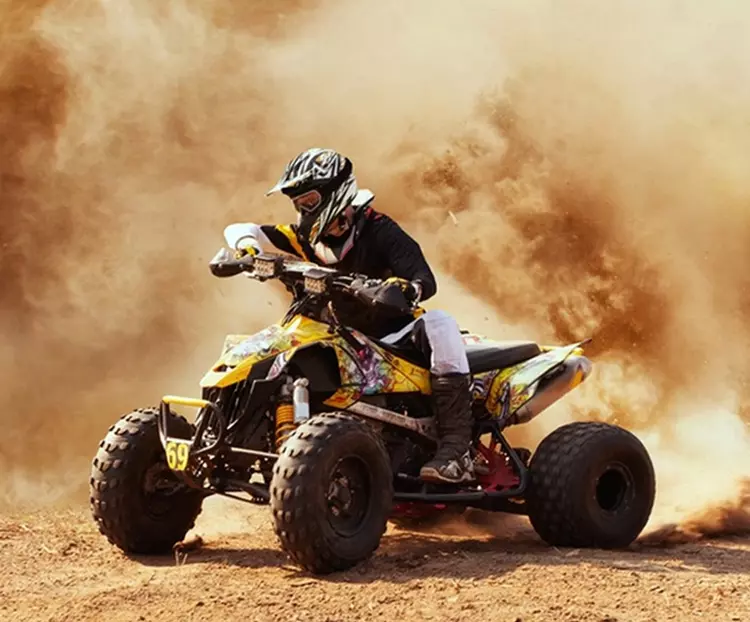 1 hours
This is ideal for those who have done the ride before as most of the rides will happen in the open rolling desert. It will be led by a Guide and it is preferred that a corporate team of more than 6 participates in it. Each team member would get a separate Quad bike.
If opted for the morning slot, you would have a very healthy breakfast from our Desert Park Campsite Menu
In the evening, you would have finger food, the "starters" from our campsite.
Aed 500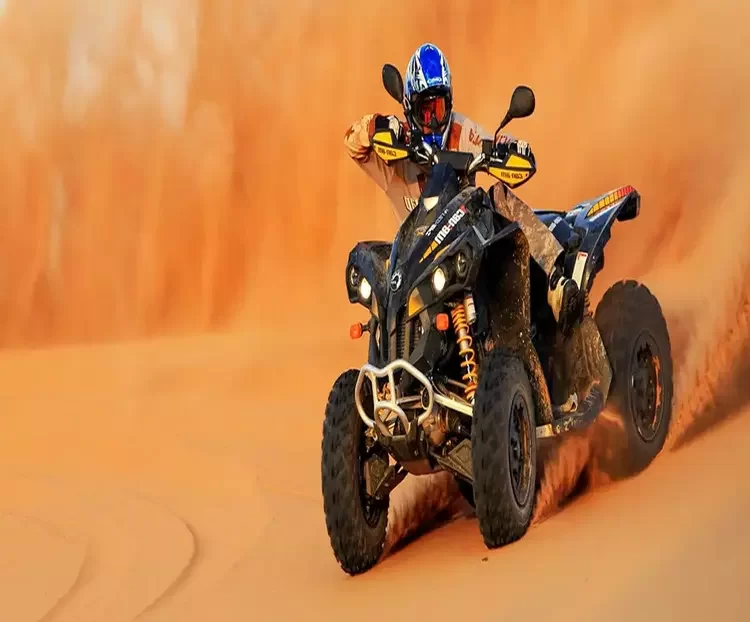 2 hours or more!!
Well, this is for PROs. Chose this option and ride in the wind-swept desert to the glorious sunset.
If opted for the morning, (not very preferred as the desert sun can be quite a spoilsport!), we would serve you a healthy breakfast, tea/ coffee. Unlimited free cold bottled water would quench your thirst.
You will join us for a three-course dinner and have a blast with our desert entertainment which includes the famous Tanoura dance and Belly Dancing.
Aed 750 Plus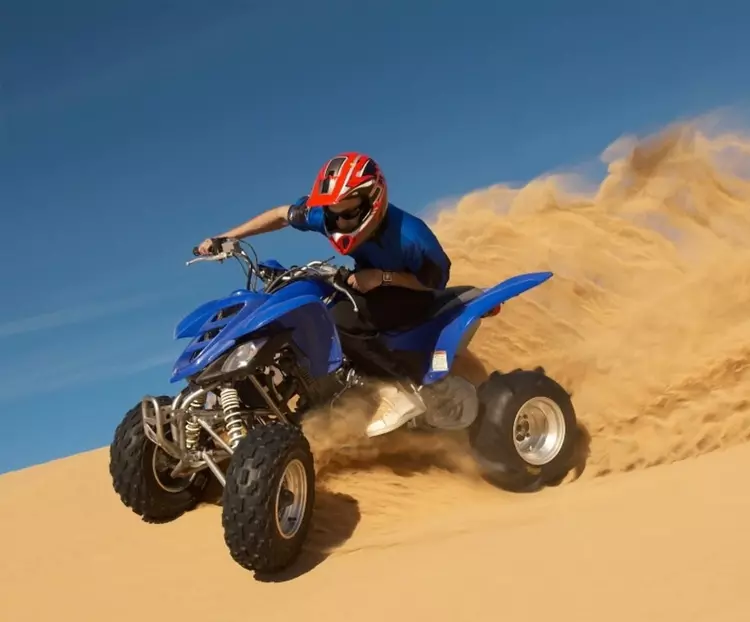 Previous

Next
OUR FABLED FLEET
Let us showcase our "desert horses"! Each one is brand new,
well-maintained, and ready for just you!
THE EXPERIENCE
You and your buddies would be given a confirmation call by our ever-friendly staff. At the exact stipulated time, our vehicles would come to pick you up. Your vehicle would drive past your favorite city, Dubai, and its glorious towers. After almost 45 minutes drive, the entire team will assemble at the "meeting point" from where you would be taken to the campsite to start the ride. While going to the campsite, you would see the glory of the red dune desert. After reaching the campsite, our experienced guide would do a brief check on you, and ask you questions related to any heart condition and for women, pregnancy could be very sensitive.
After a brief safety talk, he would lead you to your ATV bike and onboard you safely. Then comes the best part when you would be led to the open desert. There is nothing between you, your adrenalin, and the vast desert. The ride through the dunes while blowing off desert sand, taking the leaps (Not advised for first timers, though), and sharp turns. It is a duel between your monster quad bike and the dunes. If you are competing against the team, the experience would be more thrilling. After meandering desert dueling, you would be led to the campsite to refresh, catch your breath, and enjoy our tasty and hot food. If you are an eveninger then a three-course buffet awaits that includes a continental, Arabic, and Indian menu. While you enjoy your dinner, our entertainment stage would come alive with Tanoura and Belly dancing.
The whole experience is on a double when you would get your picture-perfect photograph taken by our expert photographer and a certificate from our Guide. You may also let us know if any specific team game certification is required and our event team shall coordinate with you to print and present it to your teams among the clapping hands. That would be for your Instagram/ Facebook/ and other social media family members and friends! You will have instant fame once your friends and families see you riding these monster machines.
After the full experience, you shall be dropped back into our vehicle to bring the curtain down on a fun-filled evening/ morning. The post bike experience includes sharing your pictures in the social media and gathering all the attention. This is an experience that you would like to repeat time and again with your family, friends, and office colleauges.
WHY CHOOSE US
We are Desert Parks, one of the oldest and most experienced in Desert sports activities. We have been in this business for the last 20 years and we know Dubai Desert like no one. We have a fabulous Aladinnisque full-service camp equipped with all amenities for you. Our ATV quad Bike guides are the best in the business. Above all, we have the right attitude of getting you the most chest-pumping sporting moments in the vast Al Awir desert. We would find a challenging course for your teams and be creative to offer new ways so that you keep coming back for more.
As a part of a hospitality conglomerate, we are able to bring the best in hospitality for you so that you have a memorable day with us. What's more, we part are certified for ISO Quality, Health & Safety, and Environment management systems. This ensures that we keep you safe, healthy, and fully charged for your experience for you. Summing up, we would be your ideal partners because;
We have been doing this for years and hence mastered the art and science of ATVs

We have customer friendly team of relationship management and event management

We come highly recommended by tour agents and other destination management companies

We are an ISO-certified company

Our campsite is at your service too, ensuring that you can enjoy the ride without any concerns

You can simply count on us
frequently asked questions